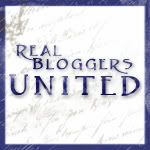 Hey all,
In my free time when I'm not brooding on miserable, rotten things like hate and intolerance or getting all emo about personal identity, I occasionally write poetry.
If you'd like to see my meager talents in poetry in action,
I have a poem posted
on "Real Bloggers United" you can check out. It's based on the healing of the blind man in Mark 8.
But, otherwise, I'd suggest checking out
Real Bloggers United
anyhow. It's an interesting potpourri blog, run by real, honest-to-goodness personal bloggers and writers, not peddlers of junk. And, it's just getting started!